9 of Cups Job Interview (Tarot Advice Reading Explained)
A tarot reading can answer any question about various aspects of your life, including work. Career-related tarot readings are one of the most sought tarot services. After all, it can help you pave your career path, make well-informed decisions, manage risks, and create opportunities.
The Nine of Cups is one of the tarot cards you'd want to see in a career tarot spread because it signifies a dream come true. This card encourages people seeking advice for a job interview to listen to their intuition and open themselves to high-frequency energy.
The Nine of Cups can also give you a straightforward yes-or-no answer to your job query. On the contrary, suppose you prefer a three-card spread, such as the Past, Present, and Future tarot spread. It'd be helpful to explore the different meanings of each position to obtain advice.
9 of Cups Job Interview Advice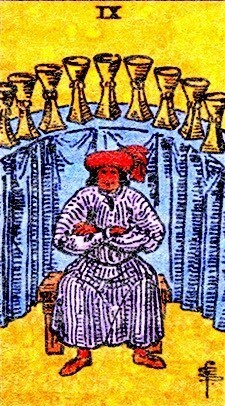 With or without prior knowledge and understanding of the Tarot, you'll notice that the Nine of Cups card is a positive card by merely looking at its illustration. You can see a man sitting on a wooden bench, radiating with pride and glee.
Behind him are nine golden cups arranged neatly in an arch. These chalices seem to be trophies the man is beyond happy to display for everyone to see. He worked hard and overcame challenges, so now it's time to reap the benefits of his efforts.
Generally, the Nine of Cups is a bringer of positive news. It denotes happiness and contentment due to one's achievements and overall success. It also signifies favorable outcomes, abundance, and successful manifestations.
You've struggled and persevered; lost and have found. Now, you can have a taste of triumph and celebrate this new period in your life. This card also reminds you to express appreciation and gratitude for the bountiful blessings you receive.
Regarding work and career, the Nine of Cups card suggests gaining recognition, praise, and respect from colleagues and superiors. This tarot card can also indicate positive change or transformation. Anything is possible if you put your mind to it, so don't hesitate to be proactive.
If you're working on delayed projects, drawing the Nine of Cups is a sign for you to push things forward. Alternatively, this tarot card might be a timely reminder to be composed but not overconfident at your workplace.
The Nine of Cups card also offers valuable advice for people preparing for a job interview. This card encourages applicants to listen to their intuition because doing so will save them from unwarranted situations.
Job interviews can be stressful and overwhelming, and you can only prepare so much. Your inner voice would help you adapt to an uncomfortable or intimidating environment, allowing you to answer wisely in your job interview. It'll also aid you in doing the right course of action.
Second, the Nine of Cups urges you to open yourself to high vibrational frequencies. Your aura and energetic vibrations will reflect in your thoughts and actions. It'll help to radiate positivity and be in your best condition before going to a job interview.
9 of Cups Yes or No for Career Advice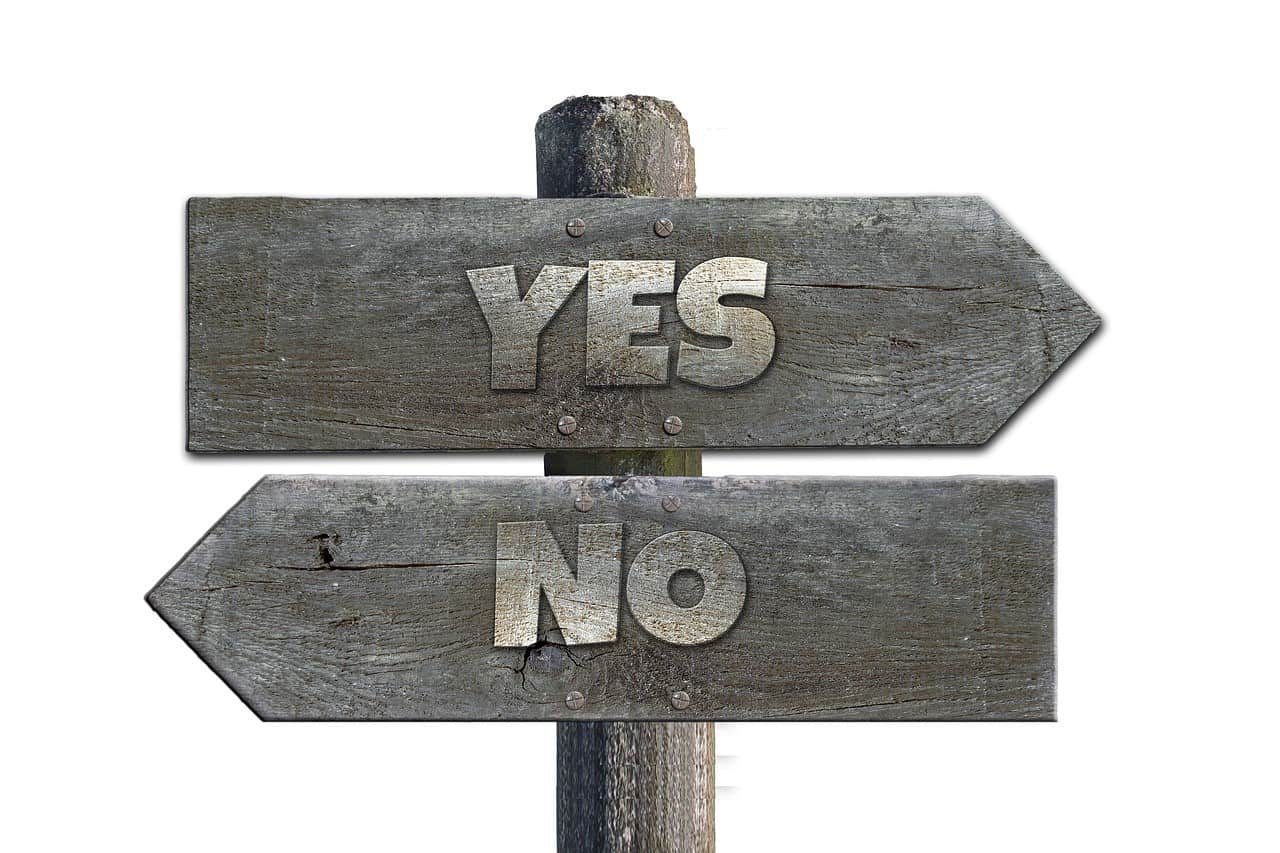 One simplified form of tarot reading is the Yes or No Tarot reading, which requires you to draw only one card. Here, the tarot cards have a predetermined yes-or-no interpretation. It's worth noting, however, that some cards yield ambiguous answers.
Some tarot practitioners argue that doing a Yes or No Tarot reading isn't the best way to gain insight into an individual's situation because of its limiting approach. However, it still provides the seeker the benefit of attaining straightforward and immediate answers.
You'll want to draw the Nine of Cups card if you do a Yes or No Tarot reading to seek advice regarding a job interview. It's one of the powerful yes cards in the Minor Arcana, signifying turning visions into reality. Naturally, pulling this tarot card is a good omen for aspirants.
You're now past the challenging stage of struggling over one matter after another. A new beginning is waiting for you, and the Nine of Cups reflects your confidence to attain your goals. It's the perfect time for a celebration, so keep yourself open to growth and abundance.
9 of Cups Three-Card Job Interview Spread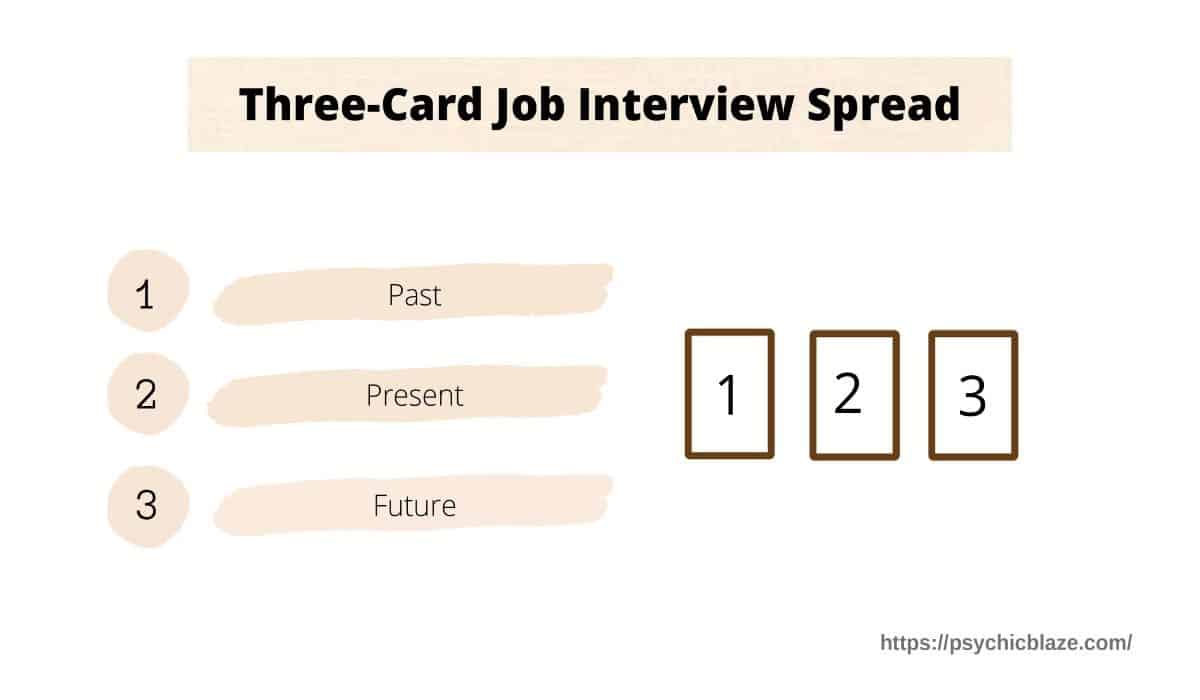 Both novice and experienced tarot practitioners use the classic Past, Present, and Future spread. It only requires you to draw three cards, yet it gives ample space for nuance and more insights about a specific moment in your life.
9 of Cups in the Past Position
Seeing the Nine of Cups in the past position means you might've gone through multiple job interviews before and aced every single one. Your previous work experiences taught you various things, and you remember them as fulfilling. You might still feel satisfaction over this now.
9 of Cups in the Present Position
You can release the breath you're holding because the Nine of Cups brings you good news. This tarot card suggests that everything will play out as you planned. Although you might be struggling at the moment, it won't last long.
The tables will soon turn in your favor, and your hard work will pay off. Maintain an optimistic mindset to attract bigger and better things for you and your career. You can look forward to doing a fantastic job in your interview.
9 of Cups in the Future Position
The Nine of Cups denotes a promising future for you, starting from your upcoming job interview. The path toward success might not be full of rainbows and butterflies, but everything will be worth it. Remember to show gratitude for the blessings you receive to attract more luck.
10 Questions to Ask the Tarot Cards Before Your Job Interview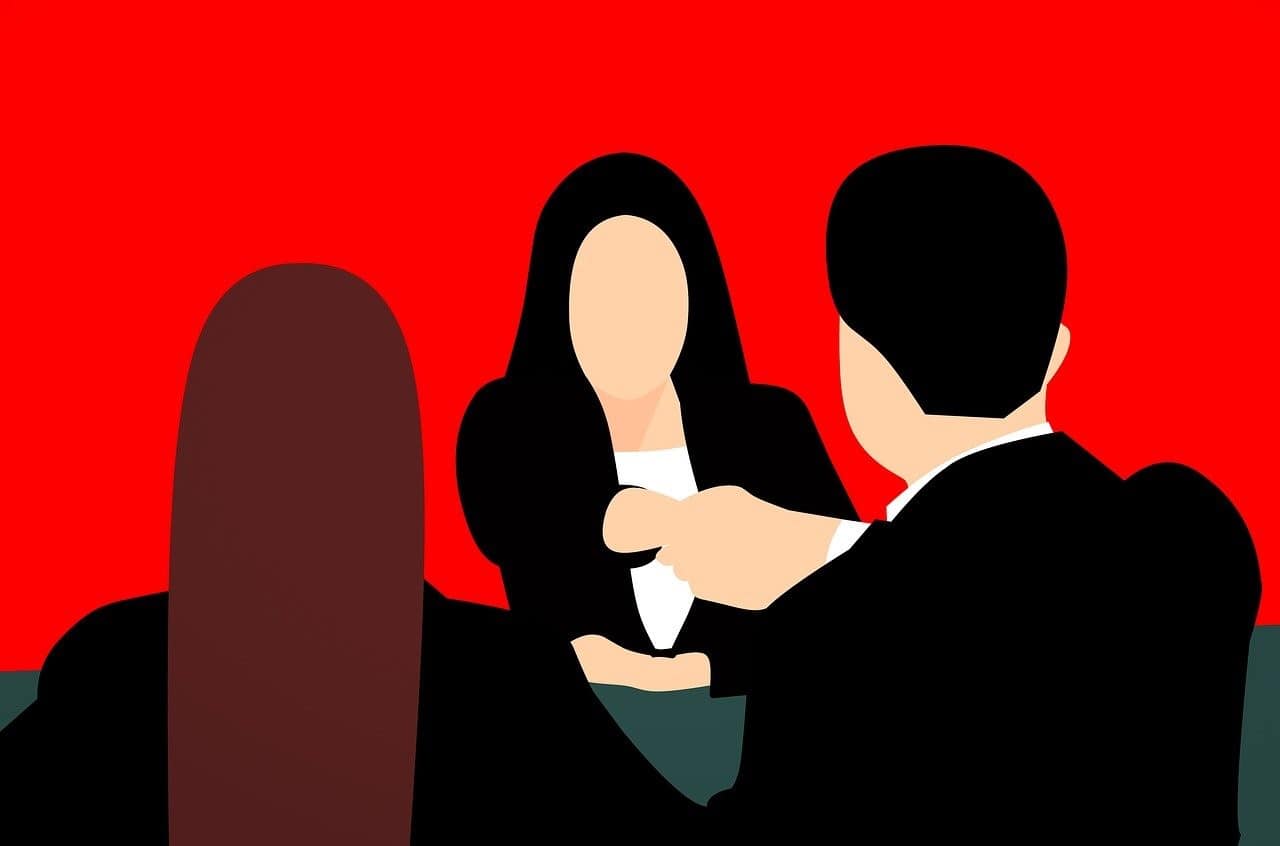 If you're stressing over an upcoming job interview, a tarot reading might help. The tarot cards can help you find clarity and explore and evaluate career choices. They can also reveal your shortcomings so that you can address them appropriately.
It'll be beneficial to ask a professional for a tarot reading before your job interview. You can also do one for yourself if you can guarantee not to bring personal bias to your tarot reading. Below are some career-focused questions you can ask the tarot cards.
What can I do to do well in my job interview?
How can I adequately communicate my qualifications, skills, and strengths to my potential employer?
Will the job position I'm currently applying for help me achieve self-fulfillment?
Is changing my career the right choice?
Am I truly qualified for this role? What are my strengths and weaknesses?
Does this company fit me in terms of workplace culture and environment?
What points am I missing while exploring my career choices?
How can I guarantee my future success?
What hinders me from reaching my full potential?
How can I align my life goals with my career goals?
Final Thoughts
The Nine of Cups is generally a positive card (especially in career-related tarot readings). Hence, it's vital to do your part in ensuring that your desires will manifest by filling your mind with nothing but positive thoughts. You can do this by using positive affirmations for job interviews.
If you do a tarot reading on your own, you might want to watch out for specific tarot card combinations. You'll want to see the Nine of Cups card with the World, the High Priestess, Strength, and Judgment in a career tarot spread. These card combinations indicate good news.